Anastasia Schröder: A CGA Star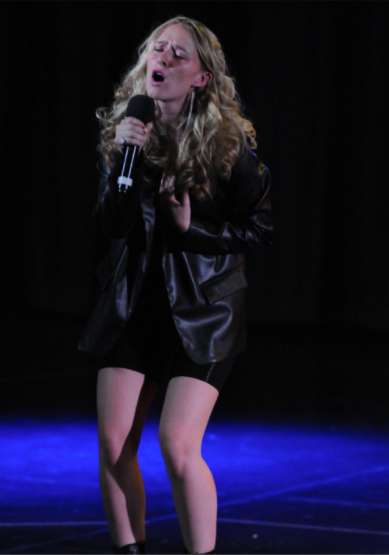 CGA has many of talented students that go beyond the exceptional and should be recognized in their field. Recently, Greenwich student Anastasia Schröder competed in the South African Championships of Performing Arts in which she achieved outstanding results.  I conducted an interview with her via zoom and she thankfully spent time answering the questions where she discussed aspects of her creative life, including inspirations, influences, performance and more. 
Interviewer (I): How was the competition and  how did you do? 
Anastasia Schröder (A): It was a fun experience,  due to Covid regulation there haven't been many performing opportunities so it was great being able to perform to a bigger audience than usual and meet new people.  I won 12 medals in total – 8 Gold, 3 Silver, 1 Bronze. I also won the Overall Female Acting Award for the ages of 16-24 as well as the Overall Female Vocal Award for ages 16-24. My biggest achievement was winning the Female Grand Champion Award for Vocals which is the #1 vocalist of the entire competition.
(I): What is your next goal?
(A): Start preparing for the World Championship  that will be held in LA in July 2022. It motivates me as lots of people get scholarships and agents who sign them. 
I will also need funding for the competition as it is very expensive. I will do so in many ways such as doing concerts.
(I): What are other performing arts achievements you feel proud of? 
(A): In 2019 I  also competed in the South African Championships of Performing Arts and I won some gold, silver and bronze medals and the Overall actress for ages 13 to 15.  I was also in the UK production of Annie in 2016 with producer, director, and choreographer Nick Winston, who is big in performing arts. 
(I): At what age did you start singing/dancing/acting?
(A): I Started singing when I was nine, dancing at about five, and  I only started acting two years ago. I like Singing and acting equally, but singing is my strength. 
(I): Are you from an artistic or musical family?
(A): Neither of my parents are artistic, but both of my older brothers used to dance, and my sister is studying acting in a conservatory in the UK. Her main focus is acting, while I want to study Musical Theatre. 
(I): Have you ever written any songs?
(A): I sing mostly covers, but I hope to release some original songs by the end of the year that you could find in Apple Music and Spotify. 
(I): What's your favorite genre of music to sing?
(A):  I enjoy all types, but my strength is  contemporary so I really enjoy singing any of Adele or Sam Smith songs who are also some of my favorite artists and inspirations.  
(I): Do you have any ritual you do before performing?
(A):  I  always warmup 20 minutes before going on stage by repetitively singing the song i'll be performing. 
(I): What do you think about when you're singing?
(A):  I only think about the lyrics, I do not get nervous on stage, but I fear the excitement  might make me forget the lyrics. 
(I): What are your plans for the future regarding performing arts?
(A):  I want to study Musical Theatre or law. I know, very  different career paths. Probably the UK to study Musical Theatre and Amsterdam to study law. 
(I): What does a typical day look like to you regarding your singing, dancing, and acting lessons and school?
(A): I normally spend my mornings in a performing art school in Johannesburg called Stageworx. It offers a variety of courses relating to performing Arts. Because I'm still a student I can only be part time there. I am currently doing a course offered by Trinity London Musical Theatre where I have to write a 20 to 30 minute piece in which I need to sing, dance, and act. It is very time consuming, and it does become difficult to balance Crimson school life with my stage work . I have bad time management, but I always prioritize both of them.
(I):Why did you transfer to CGA?
(A): CGA offers me flexibility and the class schedule allows me to put more focus on performing arts as that is the career I want to pursue.  Before  It was difficult having 8 hours of school and then doing sports, homework and performing.  
Anastasia is  an amazing singer, to listen to her sing you can visit her instagram page @Anastasia.sing and youtube page as Anastasia Schröder.
View Comments (1)