Taking Photographs to Change the Lives of Children : An Interview with a Humanitarian Photographer
KnK/Children without Borders (Kokkyo naki Kodomotachi) is a non-governmental humanitarian association based in Tokyo, Japan. The organisation was founded in 1997, with the mission of implementing its educational program for underprivileged children around the world. It was officially recognised as a Non-profit Organisation in 2000 and later as a Public Utility in 2010. Some of KnK's activities in the past include providing food, clothing, and housing for children in poverty, in Cambodia ,the Philippines, and Bangladesh, improving school environments and education access for girls in Pakistan, conducting youth participation activities in the Middle East, and more.
Mr. Kyo Shimizu is a humanitarian photographer that works for KnK. A humanitarian photographer is a photographer that "tells powerful stories of social issues and uses photographs as a catalyst for change." This is exactly what Mr. Shimizu does. He has almost 20 years of experience helping children and has won various awards for his photographs that depict the lives of underprivileged children around the world. 
I had the opportunity to interview Mr. Shimizu and ask a few questions to learn more about his journey to becoming a humanitarian photographer.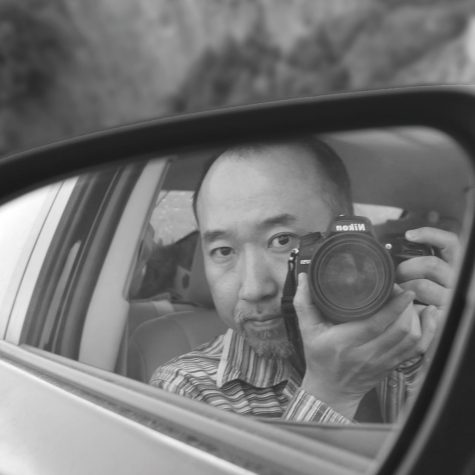 Mr. Shimizu didn't always have this career path in mind. He started his career as a videographer, making videos of nature for educational films on Japan's national television networks. While he was working in England as a caregiver, he was approached by a friend about an opportunity to work for MSF Japan / Doctors Without Borders (which KnK was previously a part of) and use his videography and photography skills. Feeling he could impact more people while utilising his expertise and travelling internationally, he took the opportunity. When KnK became independent in 2003, he followed the association as he found his work with children more fulfilling.
A few years ago, he made the decision to become a professional humanitarian photographer alongside his work at KnK to expand his reach. "When a war or natural disaster occurs, it often gets picked up by the media. As poverty is an issue that has always existed, it doesn't get as much attention", he says. Hoping his photography could increase awareness about these issues and KnK, he set up his website and started his journey as a humanitarian photographer. Since then, his photography has been featured in numerous publications and articles. 
Mr. Shimizu's goal as a photographer is highlighted in the way he takes a photo. When Mr. Shimizu takes a photo, he keeps an objective in mind: helping children. He considers his photography as a tool to inspire people to support KnK and its mission. He wants to capture a photo that moves people to want to contribute to the cause. 
When asked about the future, he shared how, since COVID-19 has limited his ability to travel to different countries, Mr. Shimizu has not been able to take photographs abroad for a while. Once travel restrictions are lifted, he would like to travel to countries he has visited before and meet the same children again. For instance, Cambodia or the Philippines. 
In the long term, his dream is for his photography to have a global impact. Comparing photography to art, he mentioned how people recognise Picasso's art as great because it is by Picasso – he wants his photographs to have a similar effect. If people look at his photographs and recognise them, he feels more people all over the world will join the KnK community.
In the hour-long conversation I had with Mr. Shimizu, I was inspired to find ways to take action myself. So I took the opportunity to hear Mr. Shimizu's advice for students who want to make a change in the world, like him. He shared that he would like students to become more curious and interested in issues like global poverty by choosing information from news sources and researching more about social issues that catch our attention. 
This interview would not have been possible without the time, patience, and kindness of Mr. Shimizu and those at KnK. To learn more about Knk, please visit their website here. To find more photographs taken by Mr. Shimizu, please visit his website here.
Leave a Comment