Piece of Peace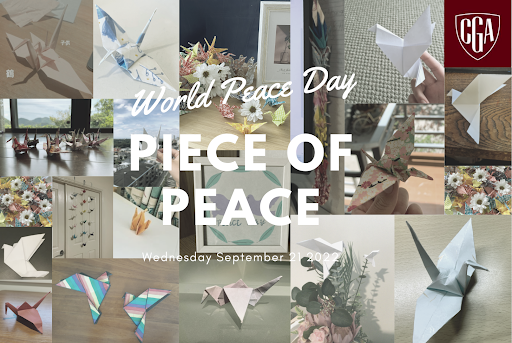 On 17th and 18th of September, Piece of Peace, an organization assembled by CGA students with the aim of promoting World Peace hosted three online events towards the 2022 World Peace Day on September 21st. 
Piece of Peace was originally found by Sara Hamaguchi, a CGA IG/A2 student, student mentor and ECL Prefect of Hawking House who lives in Nagasaki, Japan where an atomic bomb was detonated over the city during WW2 which killed around 140,000 people in just a second. She explained that her passion towards peace started from her early childhood where many citizens and surroundings in her area had an interest towards banning of nuclear weapons and preventing any more cities to be attacked by atomic bombs. Sara grew up learning about the tragedy of Nagasaki atomic bombing, and the meaninglessness of wars, which led her to call out for others also passionate about peace to create a group to promote peace in CGA community. 
Total of 15 members from all over the world assembled to create Piece of Peace. Together, they have organized three events in all timezones, where any CGA students/teachers could attend to gain a little knowledge about peace and war. During the event, members of Piece of Peace presented background knowledge about the effect of wars and its causes, followed by a debate open to all attendants. One chosen topic from three; 'Is world peace possible', 'Can peace be created by war (fights)?', 'Is war justifiable?' was discussed for 30 minutes. Students were able to share ideas, question and debate other's opinions towards something humanity could never answer. Each opinion was unique considering different perspectives and background knowledge/ experiences. After the event, we had a better understanding of peace and how individual action may affect the future continuance of peace. 
Towards the World Peace Day, Piece of Peace also collected photos of artworks and origami created by some of CGA students singly. From doves, cranes to drawings, 18 students creatively made their own peace symbol. This opportunity was a starting point for many students to think about peace. 
Piece of Peace is planning on holding more activities later in the future in the hope to spread their words across the CGA community and to the world.
Leave a Comment