CGA Student Science Practicals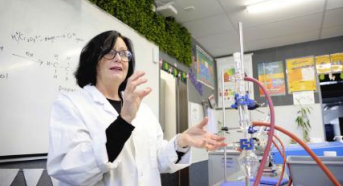 Crimson Global Academy recently provided an opportunity for science students in New Zealand to have three days of practicals in a science lab in Auckland. This took place in Macleans College, Howick. 
Students from Auckland, Wellington, and many other places around New Zealand had the opportunity to travel to Auckland and meet in this school setting, many of them meeting for the first time. A few even flew in from Australia! We were able to improve our knowledge of the sciences, and had a chance to perform many required practicals in person.
The days ran as normal school days, starting at 9.00am, and ending at 3.00pm, with each subject taking up one day. Biology ran on Tuesday, Chemistry on Wednesday and Physics on Fridays. This allowed students taking multiple science subjects to come on consecutive days. 
I myself was able to attend all three days of practicals, and had the chance to meet many of my peers and teachers that I would work with during my time here at CGA. These in person experiences helped us as students grow and strengthen our knowledge, and understand the practical requirements for the Pearson Edexcel qualifications. They proved to be extremely helpful in fueling our understanding of many core practicals, and allowed us to put our learning into action. I definitely enjoyed the classic classroom atmosphere, and had many laughs throughout the week. The energy we had did not die down at all during the days, rather it grew as we grew more and more comfortable with each other. 
On behalf of the students in CGA, I send a huge thank you to the staff that organised this meet: Mrs Husband, Ms Guiss, Mr Smith, Mr Thomson, Mr Ngara, and Mr Salmon!
The three days of Science Practicals was a great success, and allowed many students to meet with staff and students in person. This was one of the first in-person school sessions in CGA's history, and there's no doubt that there will be more coming in the future. Though the final goodbyes were inevitable, the experiences we had along the way are unforgettable, and we look forward to more in the future!
Leave a Comment