Model United Nations Club Launches a Brand New Executive Board!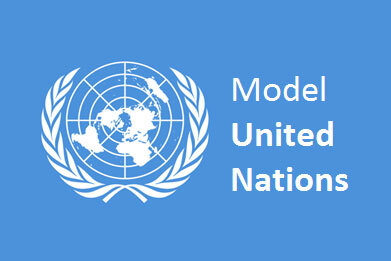 On July 29, Ms. Audrey, Model United Nations (MUN) Club Advisor, appointed a new Executive Board.
Ms. Audrey has designated new members to the MUN Executive Board as part of her efforts to foster student leadership. The Executive Board consists of four roles: President, Vice-President, Public Relations Officer, and Secretary. Haider Munawar, Dahiana Gussoni, Aki Miyazawa, and William Goa have been appointed to the roles respectively.
Each role needs different levels of qualification. The requirements for the President and the Vice President are: be fifteen years or older, have been in the club for at least one year, participated in two conferences, and be fluent in Parliamentary Procedure. To be a Secretary or Public Relations Officer, you have to at least be thirteen years old and have attended one conference.
You might be asking, what are the different responsibilities for each role?
The President has to develop agendas for the club and ensure that they're carried through. He also has to be the Chairperson in any club UN simulations. The Vice President must fulfill the President's duties if he's absent, provide assistance to the President if needed, and has to provide background information for club simulations. The Public Relations Officer's job is to update the CGA MUN Instagram page and communicate achievements to the wider community. Lastly, the Secretary has to take notes at Club meetings and post them on the MUN channel. President of the MUN club, Haider Munawar said, "The creation of the Executive Board was a great idea. It's a huge step forward for the club. Hopefully, we will become completely student-run in the near future!" He went on to add, "Ms. Audrey has done a great job in picking the Executive Board members. So far, everyone has been working very well together. I am interested in seeing where this takes the club."
It's evident that Ms. Audrey's decision to launch the Executive Board will encourage student leadership and engagement within the club. This is especially important if the club ever wishes to become student-run. I wish for the club's success.
Leave a Comment