CGA Press Sports Special: Interview With Chiba Deaf Football Club
This article is a CGA Sports specal, covering an exclusive interview with CDFC, a deaf footballers' club located in Chiba Prefecture, Japan. Enjoy the interview!
*Deaf Football is played with similar rules as football (soccer) is played; 11 vs 11 players on the pitch, 45 minutes for 1 game, prohibition from using hands apart from the goalkeeper, offside and onside. The significant difference is the player's hearing ability. According to Deaf Football | Para Football, all players must have a hearing loss of 55dB in their better ear in order to compete in professional games. Usage of hearing aid devices are not allowed in official games. The hearer rules apply for Deaf Futsal as well, which is played with 5 players on each side.
Interviewer (I): Thank you all for joining this session today. It would be great if you could briefly introduce yourselves.
Takaki Yashiro (TY): Hello, my name is Takaki Yashiro and I am the manager of CDFC. Thank you for having us today.
Kengo Shukuri (KS): Hello, my name is Kengo Shukuri, and I'm currently the captain of this team. Nice to meet you.
Hidetaka Itami: (HI): Hi, my name is Hidetaka Itami, and I am a goalkeeper playing for a club called Ichikawa SC. I also play for the Japanese National Deaf Football team, and was invited to join by people I know at CDFC. Nice to meet you.
Hiroyuki Nakagawa (HN): Hello, my name is Hiroyuki Nakagawa and I work as the administrator for CDFC. Nice to meet you.

I: Mr Yashiro, why did you decide to become the manager of this football team?TY: I originally played for CDFC, until 10 years ago the club had to shut itself down. This was because there weren't enough players to maintain the organization. After this happened, I transferred to a Deaf Football club in Tokyo, where I started my managerial career. After CDFC managed to regroup and restart, I decided to return to my roots and offer the team my experiences.
I: What is your current motivation as coach?
TY: CDFC had to overcome a long, tough time of inactivity, and I experienced it as well. I always have that emotion in mind, and I'm working right now to never let that happen again.
I: Thank you. Let us move on to questions towards the captain. What special efforts do you make to keep the team secure?
KS: It's simply communicating between the manager and club owner. I must talk to all the players about the training sessions, game plans, and when to up the levels of play.
I: What would you say was the game you remember the most in your career?
KS: It has to be when we first participated in a Deaf Football tournament. This was when we had to cover so much ground I had leg cramps! The quality of play and communicating made me really get into this sport. This game had the moments I wanted to experience while playing Deaf Football.
I: Thank you for the response, I can actually relate to this as I also have played and am playing football weekly. Let's move on to the administrator, Mr Nakagawa. What is your main job within the team? Also, how long has it been since you started this job?                                   HN: To be honest, I think my job is the most time consuming! Basically what I do is organize newly transferred players, contact other teams to play matches, secure training grounds, create and submit entry paperwork for various tournaments. I have done all these kinds of jobs for 3 years. Additionally I occasionally have to subsitute the place of the club owners in certain situations as well.                                                                        I: That indeed is, a lot of work to manage!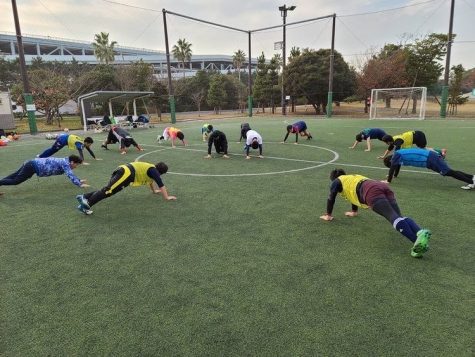 I: Mr. Itami, this may be quite a vague question, what level of recognizability does Deaf Football get, from your viewpoint?                                            HI: To be honest, it is not high. Let me ask you a question. Do you think the world rankings of Deaf Football and Football are different?                  I: Yes, I believe so.                                                                                                                                                                                                                                                            HI: That's correct. This is because the countries ranked in the top tiers of the world rankings of Deaf Football, are countries that receive lots of financial aid from the government to advertise and build facilities. These are notably Iran, Ukraine and Turkey. Unfortunately, Japanese Deaf Football teams have a hard time to join leagues because of several limitations in order to apply, and there is little aid from the government. My point is that recognition is quite low, mainly due to the fact that there are several issues to maintain or start clubs, even before trying to advertise.
I: This is the final question, to everyone. What are your plans going forward?                                                                                                                                        TY: To fill in the gaps between experienced players and younger ones, locate our weaknesses and give it our all to make them our strong points. KS: Day by day, there are fewer people playing Deaf Football. I think our mission is to increase people playing this sport, including elementary and junior high school children.                                                                                                                                                                                                                                HN and HI: First of all, gain more experience so that we can make better feedback to others. Also, create more environments for people to see our activities, in order to increase people playing Deaf Football.
I: That concludes our interview session. I want to say thank you so much for this opportunity.                                                                                                      All: Thank you for inviting us. I hope people can see this interview and know a little bit more about this great sport.

The Sports team of the CGA Press will continue to cover experiences of athletes, and stories of students that you could be in the same classroom everyday. Look out for new articles released on the 2nd and 4th Friday of each month.
Leave a Comment