Top 3 Transfers in Football That Are Called Betrayals
As football icon, Cristiano Ronaldo is reportedly close to a deal with English football club Manchester City, (fierce rivals with his former club, Manchester United), we will look back at some of the sport's most controversial player transfers, Enjoy the article!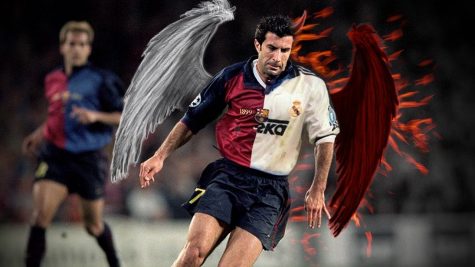 1) Luis Figo: Barcelona -> Real Madrid, 2000
  Perhaps the most controversial transfer ever in the history of Spanish Football, the Portuguese forward completed a $60 million move from Barcelona to Real Madrid. So much controversy erupted, due to the relationship of these 2 clubs. Since the beginning of Spanish Football, the games in which these 2 giant clubs play against each other a few times a season, called the El Classico, the nation is divided not just for footballing reasons, but also several cultural and historical issues in Spain, mainly because of the Spanish Civil War in 1936. Catalonians, supporters of Barcelona, resisted General Franco's dictatorship while the General, ruler of Madrid, kept on attempting to control the region using methods such as murder and torture. This had left a deep scar in the Catalan's hearts, and is still making this rivalry special and bitter. Some Barcelona fans, upset that one of their key players "crossed the line", were said to have done terrible acts against Figo such as throw a pig's severed head at him from the stands! He went on to play a long career in the Real Madrid squad, before moving again to Italian side Inter Milan, and retiring in 2009.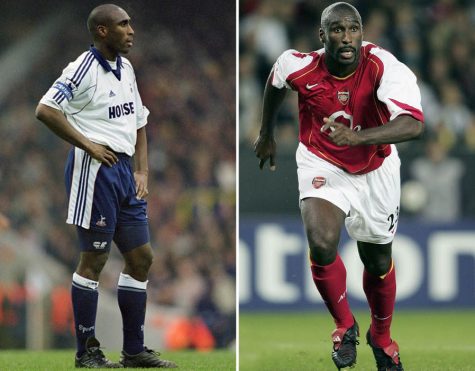 2) Sol Campbell: Tottenham Hotspur -> Arsenal, 2001
 Tottenham Hotspur, also called Spurs, and Arsenal have one thing in common; they both have their home stadium in North London. This geographical factor has led to the creation of one of the fiercest rivalries in the English Football league. And when Sol Campbell, who captained Spurs and the English national team, decided to walk across the border of White Hart Lane (Spurs' home stadium) and Highbury (Arsenal's home stadium at the time), it caused uproar in the area. Spurs fans were angered so much by the facts that: Campbell was brought up as a professional footballer since the youth teams in the club, and that he had left Spurs to "challenge to win more trophies".  Every time Campbell was in the starting lineup of Arsenal when playing against Tottenham, the chants of "traitor" never stopped for the entire 90 minutes. Campbell made his point, however, when Arsenal completed their season celebrating them winning the Champions of the league title, right at the home stadium of Tottenham!

3) Mario Götze: Borussia Dortmund -> Bayern Munich, 2013
 Götze, carefully brought up the ranks in the club's youth system and was just starting to show his brilliance, was thought to become the star player for Dortmund, and this was what all their fans hoped for. This dream swiftly broke apart to pieces when he decided to join old rivals Bayern Munich. These 2 clubs have a long history of rivalry, mainly due to Bayern's transfer strategy to agree to signing a contract with the players that were exceptional for, you guessed it Dortmund. Just to name some players: Mats Hummels, Robert Lewandowski, Mario Götze, and Thomas Helmer. Losing Götze was especially heartbreaking for the Dortmund fans, as he was a youth product. As shown in the image above, when he scored a goal in a Bayern v Dortmund league match, he held up his hands to answer the booing and refused to celebrate his strike. However, he could not make a mark in the Bavarian club, and returned to Dortmund a few years later. He is currently playing in the Dutch side PSV.
The Sports team of the CGA Press will continue to cover experiences of athletes that you could be in the same classroom everyday. Look out for new articles released every Friday.
Leave a Comment